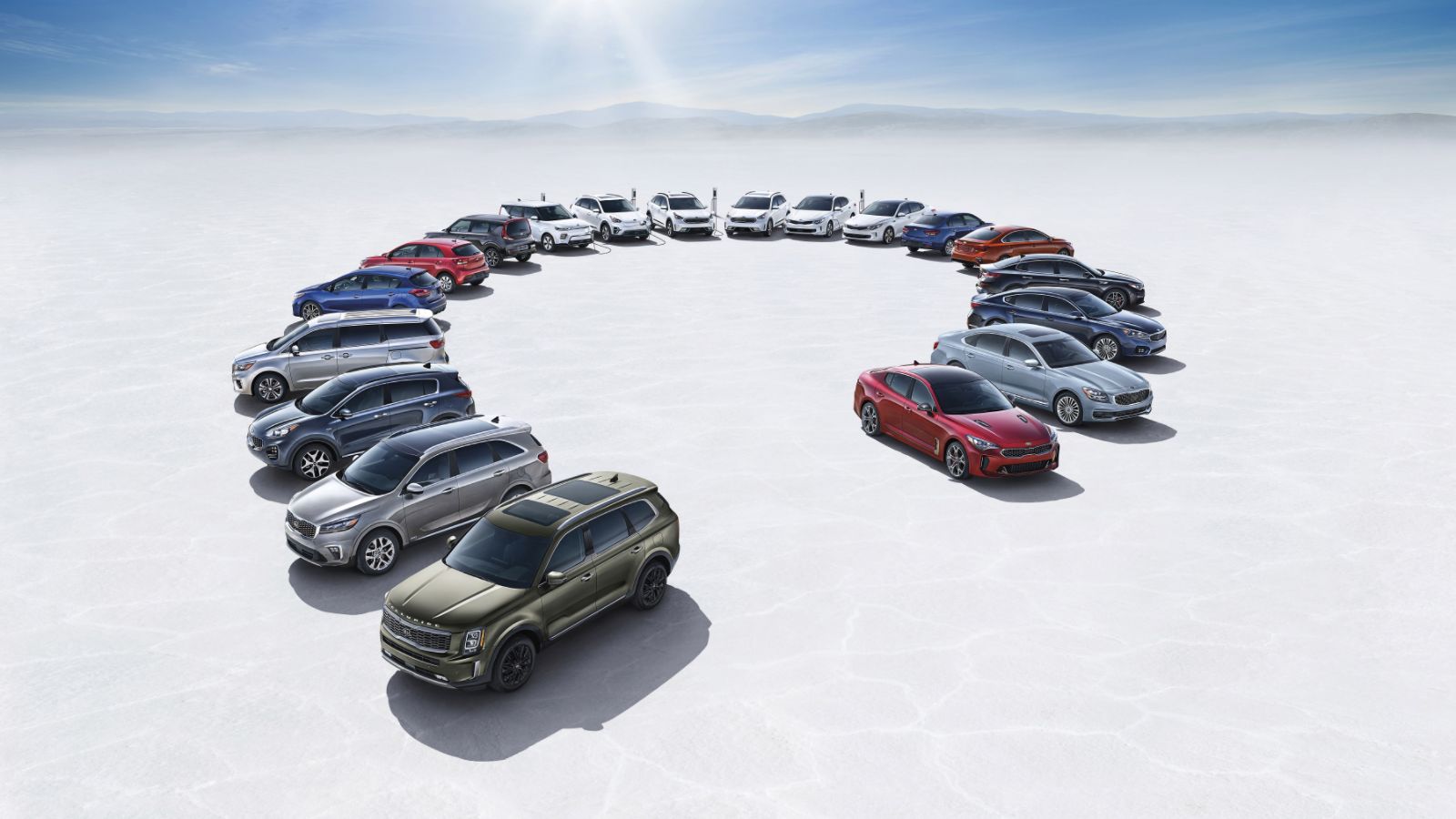 Rick Case Kia Sunrise

Kia Model Research
All Kia All the Time: Discover the New Kia Lineup in Sunrise, FL
In the car shopping process, it takes time to wade through all of your options. From deciding which vehicle body type is best for you, to finding the best make and model, plenty of questions can come up along the way. Rick Case Kia Sunrise tries to answer them in one place for Sunrise drivers. Research the entire new Kia lineup, and picture yourself behind the wheel.
Find the right deal on the perfect Kia for your needs with a little help from the Kia finance team
As one of the premier Kia dealers serving the Fort Lauderdale, FL area, we've always gone the extra mile to distinguish ourselves from the competition, and one of the primary ways we do just that is through our financing department. We know that with all the attractive new Kia models, it's no trouble finding a car you like. But as anyone who's ever shopped for a car near Davie and Plantation, FL these days knows, finding a car you love with financing that fits your needs and budget it something of a rarity these days. Luckily, here at our dealership, buying or leasing a Kia isn't just simple, it's eminently affordable.
Find out more about the top Kia cars at our dealership
We've all heard the expression, "Knowledge is power," but in no situation does that adage ring more truly than when you're shopping for your next car. And if you're looking into the Kia cars available here at Rick Case Kia Sunrise, then the best place to arm yourself with knowledge is right here on our website. Whether you've got your sights set on a new Kia sedan, hatchback, crossover, or SUV, you'll find plenty of valuable information to browse right on this page, so you can walk into our dealership with total confidence when you're ready to take the next step.
Kia Forte
This small car is anything but diminutive when you consider its attitude and features. With a youthful vibrancy in its aesthetics, playful dynamics on the open road, and a cabin that puts features and passenger experience first, the Kia Forte is a daily driver that exceeds all expectations. Plus with more standard safety features than many compact car rivals and amenities like Apple CarPlay and Android Auto, the Kia Forte is a perfect car for urbanites on the move.
Kia Optima
Amidst a tumultuous midsize sedan market, the Kia Optima is a bastion of quality. Handsomely appointed inside and out, the Kia Optima balances its generous interior space with a road manner that would put most luxury sedans to shame. A fantastic car for small families, the Kia Optima provides an array of modern conveniences like USB ports available in the front and back rows and Smart Cruise Control, demonstrating the power of leveraging technology to craft a truly well-rounded sedan.
Kia Soul
If you're looking for something different in your next car, it'd be foolish not to look into the new Kia Soul. This compact hatchback blends the drivability of a sedan with the cargo space of an SUV, and wraps it all in a package that exudes fun and attitude. From its unique exterior color options to its ultra-cool mood lighting on the inside, the Kia Soul is a car purpose-built for drivers who love to flaunt their own distinctive style on the open road.
Searching for the most dependable new Kia SUVs? Dive deep on their specifications and features
Kia Niro
The Kia Niro is the newest and smallest of the Kia crossover portfolio, and despite its stature, it's made a big splash in its market niche. Outfitted with a parallel hybrid powertrain, the Kia Niro is equal parts efficient and athletic, allowing you to stretch your fuel dollars further while commuting to work in the city during the week, and then turn right around to load up with outdoor gear for adventures with friends on your weekends.
Kia Sportage
Interested in an SUV that's just as excited for the great outdoors as you are? The Kia Sportage may just be the car for you. This powerhouse of a compact SUV pairs generous ground clearance with Dynamax™ all-wheel drive, allowing you to take trips off the beaten path with total confidence. Plus, with its driver-focused interior, panoramic sunroof, and well-proportioned cargo room behind the rear seats, we think that you and your family will find the Kia Sportage plenty comfortable for daily driving ventures.
Kia Sorento
The Kia Sorento is a three-row, seven-passenger SUV that's perfectly positioned for large families. Whether it's toddlers in car seats or your older children's little league team, the Kia Sorento is versatile and accommodating for long drives. Plus, with YES® Essentials stain-resistant fabric upholstery, the Kia Sorento has an interior made for easy cleanup, so you can spend less time worrying about juice boxes and crushed graham crackers, and more time focusing on your travels.
We Put All of the Vital Kia Information At Your Fingertips in Sunrise, FL
Making an informed vehicle purchase is important. That's why we put all the vital information about new Kia models at the fingertips of Fort Lauderdale, Davie, Plantation, and Hollywood shoppers. From specs and features to photos, get everything you need to know as you find the perfect match in a Kia vehicle.
Just how fuel efficient is the Kia Optima or Kia Cadenza? How much space does the Kia Soul have? How capable is the Kia Sportage or Kia Sorento? How many people can you fit in the Kia Sedona? You can find the answers to all of your questions by doing your research with Rick Case Kia Sunrise.
How Does the Kia Lineup Compare to the Competition in Sunrise, FL?
How does the Kia lineup stack up to the competition? You can find that here too! Use our head-to-head comparisons to learn how Kia vehicles compare to other popular makes and models in the Sunrise area. Get the whole picture, and feel confident in your decision to go with Kia!
Your research isn't done until you've taken a new Kia for a test drive. Visit Rick Case Kia Sunrise today!
Make an Inquiry
* Indicates a required field