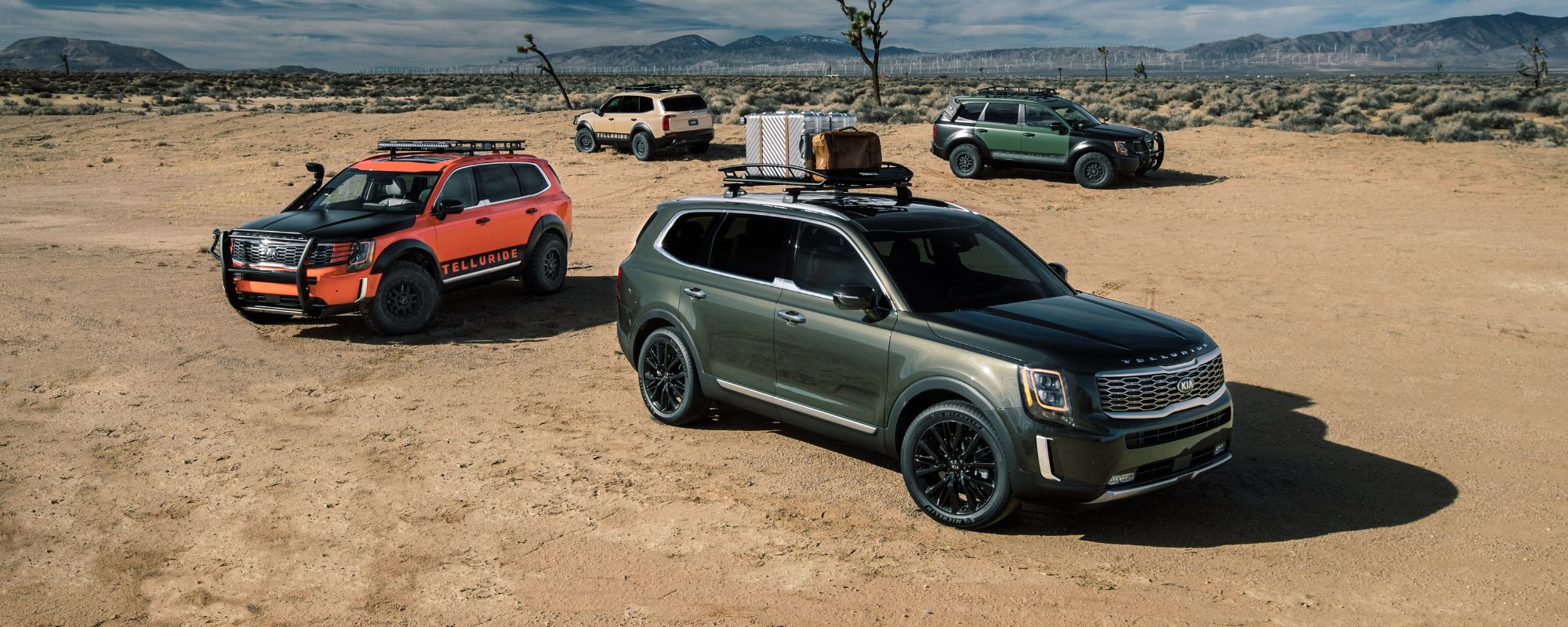 Rick Case Kia

Finance Center

Sunrise FL
Finance Your New Kia at Rick Case Kia in Sunrise
Whether you've come to Rick Case Kia in Sunrise for a new Kia Sportage, Soul, Sorento, or Forte, we want your shopping experience to be a great one, from start to finish. Our full-service Kia dealership has experts in every department to ensure that you always receive the highest level of qualified customer service possible; from our sales team to our service department, we're all here to help - including the financing team. We know that many customers least favorite part of the car shopping process is the financing component, but we don't want you to worry about anything other than finding a new Kia that you love when you come to Rick Case Kia.

It all starts right here on our website. We've always believed that when it comes to Kia financing, the best possible thing you can do is build up your knowledge base right from the start, so you'll be fully prepared to get down to brass tacks and build the deal of your dreams. And a great placer to start out is with our simple, no-obligation, and 100% secure online finance application. With just a few quick clicks, you can submit an application from wherever you might be browsing our website, be it your home computer, mobile phone, or anywhere else you might have internet.
Plus, not only can you submit your financing application online, you can also use our online tools to explore your financing options even further. You can get an estimate on your monthly payments and even get a preliminary value appraisal on trading in your vehicle at our Sunrise, FL Kia dealership, so there's no need to drive around to different dealers from Plantation to Hollywood, FL to get a quote.
Let Us Get You Started!
* Indicates a required field

Our experienced finance experts will work directly with you to help you secure a loan that fits your lifestyle, budget, and credit history so that you go home with a monthly payment you can feel good about. We have an online credit application so you can get the ball rolling on the process from the comfort of your own home; that way, when you visit the dealership, you'll be pre-approved and ready to shop. Our payment calculator can help you narrow down a budget, and our value your trade tool is handy for drivers who have an older model that they'd like to trade in. Our goal is to find the right car at the right price and with the right financing for every customer who walks through our doors.
Explore Your Kia Lease Options
If you'd prefer leasing a vehicle to buying, we can help you with that too! Our finance department is well-versed in the many lease products out there, including any special incentives or lease offers made available by Kia Motors America. We'll make sure you get the best deal on a new Kia lease here at Rick Case Kia in Sunrise. If you're a driver in Fort Lauderdale, David, Plantation, or Hollywood, FL, then make sure you visit Rick Case Kia where we'll make sure you love your financing as much as you love your new Kia!
To Buy or Lease Your Next Car?
Explore your financing options here at Rick Case Kia Sunrise
At Rick Case Kia, we know that when it comes to car shopping, no two drivers are alike. Everyone has different needs and tastes when it comes to cars, and by that same right, everyone has different needs when it comes to financing. Fortunately, here at our Sunrise, FL Kia dealership, we offer a variety of different financing options, and the only question you'll have to ask yourself is, "Which one is right for me?"
Hours
Monday

9:00AM - 9:00PM

Tuesday

9:00AM - 9:00PM

Wednesday

9:00AM - 9:00PM

Thursday

9:00AM - 9:00PM

Friday

9:00AM - 9:00PM

Saturday

9:00AM - 9:00PM

Sunday

11:00AM - 7:00PM
Kia Leasing
If you're anything like us, you're positively taken with the variety of new Kia models for sale here at our Sunrise, FL dealership, but you don't want to make a long-term commitment to just one model. Fortunately for you, a Kia lease is the best way to experience some of the latest that the Kia brand has to offer, while freeing you up to enjoy a new Kia in just a few years' time.
Kia leases typically run anywhere from 24 to 48 months, affording you the opportunity to drive the latest Kia models right when they hit the market. What's more, you can forgo most maintenance costs, as Kia leases typically fall under the Kia New Vehicle Warranty. However, you won't technically own the car you lease, so you'll have to adhere to a mileage limit during the term of your lease and refrain from excess wear and tear or making modifications to the car. However, at your end of your lease, you'll be free to either lease a new car, buy out your current one for the price agreed upon at lease signing, or simply turn over your keys and walk away without worrying about selling your car after you've paid any outstanding payments and fees.
Car Loans & Financing
If you've got your sights set on one of the new Kia models or used cars available at our dealership near Fort Lauderdale, FL, and you're certain you want to drive it for years to come, you may find its better to consider purchasing your car outright. Luckily, financing a car is only too easy here at Rick Case Kia Sunrise.
As you might expect, choosing to finance or purchase a car outright means paying for ownership of the vehicle with all the benefits and responsibilities that entails. You'll be free from any mileage restrictions, and able to customize your car with accessories to your heart's content, but you'll also be responsible for maintenance costs outside of warranty coverage. However, you'll be able to sell your car whenever you feel like it, and use the money to roll toward a new car if you so choose.
Lease your new Kia or buy it outright? Discover the financing route that works best for your lifestyle
There's a lot to consider when thinking about financing, but one of the most critical decisions you're going to come up against is the choice to buy or lease your next car. What a lot of folks don't consider is the fact it's not just about finding what's right for your budget; it's also about finding the financing solution that fits your lifestyle.
For example, if you're the type that loves to get away from the greater Fort Lauderdale, FL area and take longer road trips, you'll want to go for buying a car outright. Kia leases typically limit the mileage you can put on your car, so they're better suited in most cases to folks you primarily stick to local driving.
On the other hand, if you primarily stick to cruising around Plantation and Sunrise, FL, there's some great benefits to choosing a Kia lease. With a Kia lease, you aren't actually paying for ownership of the vehicle, but rather for the opportunity to drive it during the term of lease. So, in most cases, a Kia lease will have lower monthly payment rates than if you were to finance a comparable Kia model with a car loan.
Of course, there are plenty of fine points to explore when talking about your Kia financing options, and at Rick Case Kia, we know that every driver is unique in their financing needs. So, if you'd like to learn more about how you can get the best possible deal on the Kia you've had your eye on for a while, drop by our showroom to speak with our finance professionals today.
Learn more about your financing options by visiting Rick Case today!
Regardless of which route you choose, we're confident you'll find our financing options both compelling and competitive here at Rick Case Kia Sunrise. We've helped drivers from all over the greater Davie, Planation, and Hollywood, FL areas to find their perfect financing solutions, and we'd love to add your name to our ever-growing list of happy customers. Swing by our showroom today and let our team help you find the perfect Kia leasing or financing solution for your budget.
Your privacy is important to us.
Rick Case Kia Sunrise takes your privacy seriously and does not rent or sell your personal information to third parties without your consent. Read our privacy policy.