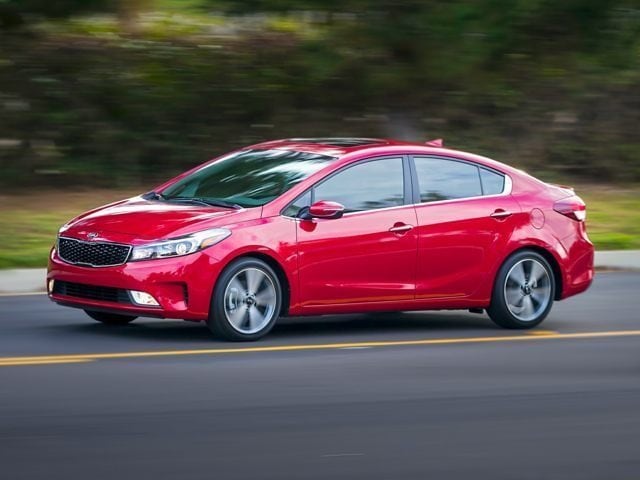 Shopping for a new compact car? Check out our competitive comparison for the Kia Forte in Sunrise

Nowadays, compact cars are an exceptionally attractive means of transportation for Floridian drivers. Prized for their durability and efficiency, a compact car can make commuting on busy city streets and running errands around town a breeze. And of all the compact cars out there these days, few are as attractive and dynamic as the new Kia Forte here at Rick Case Kia Sunrise. Now, we know that's a bold assertion, and if you've got your eye on the new Kia Forte, you're likely looking at other compact cars in the greater Fort Lauderdale, FL area as well. Fortunately, we've put together a brief competitive comparison to show you how the Kia Forte can meet and exceed your every expectation of what a compact car can be.
Kia Forte vs. Toyota Corolla
Pricing: Choosing a compact car has always been an economical option for Sunrise, FL drivers on a budget, but it should be noted that the Kia Forte has a significantly lower base MSRP than the Toyota Corolla.
Convenience Features: If you're looking a compact car with plenty of smart standard features, you'll find a lot to love about the new Kia Forte. With standard power heated exterior mirrors, the Toyota Corolla is better-equipped than the Toyota Corolla, which lacks a comparable feature standard.
Warranty: If you value reliability in your next car, you'll be happy to note that the Kia Forte boasts a powertrain limited warranty of up to 10 years or 100,000 miles, whichever comes first. By comparison, the new Toyota Corolla only has a powertrain limited warranty for up to five years or 60,000 miles, making it much less attractive for drivers in nearby Plantation, FL.
Power: If you want to actually enjoy your time behind the wheel when driving around nearby Fort Lauderdale, you'll want to choose the Kia Forte over the Toyota Corolla, as it offers more base horsepower.
Rear Seat Comfort: Frequently find yourself driving around with friends in nearby Davie, FL? If so, you'll find the rear seats of the Kia Forte more comfortable than those of the Toyota Corolla, as the Kia Forte offers more hip room, ensuring your passengers don't have to squeeze in to fit comfortably.
Cargo Capacity: The Kia Forte has more cargo space than the Toyota Corolla, making it great for everything from grocery runs in Hollywood, FL to luggage for long trips.
Kia Forte vs. Nissan Sentra
Pricing: As with the Toyota Corolla before it, the Kia Forte offers a lower base MSRP than the Nissan Sentra.
Warranty Coverage: With its reputation for reliability and the outstanding Kia powertrain limited warranty coverage mentioned above, the Kia Forte easily best the Nissan Sentra from a standpoint of overall value.
Convenience Features: Love to listen to your favorite stations on your drive to work in nearby Fort Lauderdale? The Kia Forte features standard satellite radio, while the Nissan Sentra does not.
Passenger Capacity: If you'd like little extra room to stretch out long drives, you'll find the Kia Forte is the roomier of these two compact cars. With more interior passenger volume than the Nissan Sentra, the Kia Forte is a great fit for even taller drivers.
Power: If having plenty of power on demand is important to you, you'll be much more satisfied behind the wheel of the Kia Forte, as it offers more base horsepower than the Nissan Sentra.
Technology: Pairing your favorite mobile devices to the Kia Forte is much easier thanks to its support for Apple CarPlay and Android Auto, two features which the Nissan Sentra lacks.
If you'd like to learn more about the new Kia Forte and all the features it has to offer, don't hesitate to make the short drive to our Sunrise Kia dealership for a test drive today!