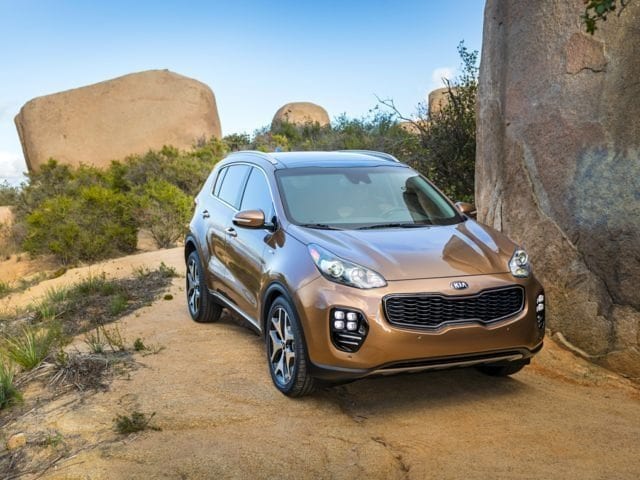 The Kia Sportage Overpowers the Competition in Sunrise, FL
When you need a crossover that'll bring both style and capability to the Sunrise roads, the Kia Sportage is there to deliver. Offering a superb engine and sleek design all at an affordable price, the Sportage overpowers the competition in Fort Lauderdale, Davie, Plantation, and Hollywood. Find out how the Sportage compares to the Toyota RAV4 and Nissan Rogue.
Kia Sportage vs. Toyota RAV4
The $23,200 starting price of the Sportage is more than $1,200 less expensive than the RAV4's starting price. If you opt for the top model, the Sportage SX Turbo is still over $2,000 less than the comparable model of the RAV4.
The Sportage packs more power than the RAV4. With 181 horsepower and 175 pound-feet of torque standard, the Sportage boosts those numbers to 240 horsepower and 260 pound-feet of torque with the available turbo engine. Standard or optional, both are more impressive than the RAV4's 176 horsepower and 172 pound-feet of torque.
Strength is on the side of the Sportage, which can tow up to 2,000 pounds. That's 500 pounds more than the RAV4.
Here's one for the back seat passengers: the Sportage offers more second row head, leg, and hip room than the RAV4.
Kia Sportage vs. Nissan Rogue
The Sportage has a starting price of $23,200. That's over $1,200 more affordable than the starting price of the Rogue. Go ahead and keep some cash in your pocket.
Power is great, especially when it comes standard. The Sportage offers 181 horsepower and 175 pound-feet of torque standard. Need more? The optional turbo engine increases that power to 240 horsepower and 260 pound-feet of torque. With the Rogue, you're stuck at 170 horsepower and 175 pound-feet of torque.
Need some towing capability? The Sportage has you covered, with a 2,000 pound towing capacity. That's 1,000 pounds more than the Rogue's towing capacity.
The Sportage boasts more shoulder and hip room in the front seat, and more head and leg room in the second row seat than the Rogue.
Decide for yourself by test driving the Kia Sportage at Rick Case Kia Sunrise!